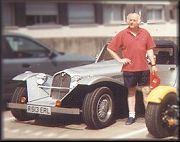 The Cabrio:
Planning for early retirement? Martin Woods had dreamed of owning a traditional British Sportscar for a long time. In his early years he had been an engineer, so he knew what he was looking for. For him the Marlin Cabrio seemed the obvious choice. It offered the opportunity he had waited for. Reviving the pleasures of his previous skills, it only took him four months to complete to a very high standard, so now he has many years to enjoy it.
and if you still need assurance -
The Javelin factory will always be prepared to offer you building advice - and you could contact The Marlin Owners Club which is one of the most active and successful clubs in the country with over 600 members, with a wealth of knowledge and experience.